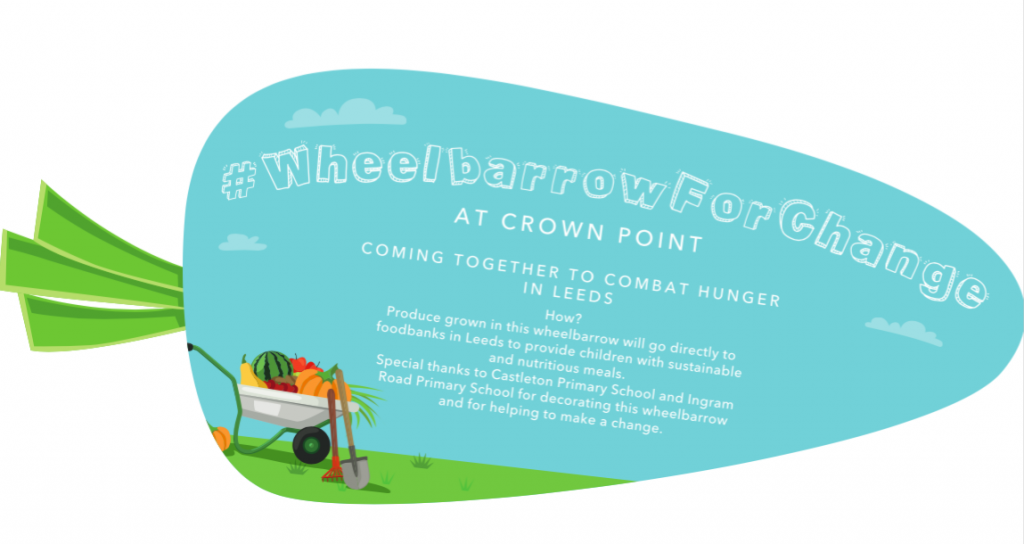 In relation to the Leeds Community Foundation and Leeds City Council #HolidayHunger, Crown Point Shopping Park is supporting this brilliant cause with our own #WheelbarrowForChange!
Across Leeds, 30,000 children go hungry in the summer holidays with parents or guardians not being able to provide substantial meals for them out of term time. We have teamed up with Castleton Primary School and Ingram Road Primary School to help decorate the wheelbarrows that you can find located around Crown Point Shopping Park.
Within the wheelbarrows, we are growing essential fruit, vegetables and herbs that will be donated to Real Junk Food Project and Fareshare local foodbanks in Leeds, to provide basic ingredients that will create substantial and nutritional meals for the children in Leeds who desperately need it the most. We will also be working with M&S Foodhall at Crown Point Shopping Park to collect any un-sold food that is past the sell-by date, which will also be donated to the foodbanks.
Please make sure to look out for our wheelbarrows on-site at Crown Point and post a picture with one of them to our social media pages using the #WheelbarrowForChange to show your support.
You can also get involved by donating any food to:
https://therealjunkfoodproject.org/